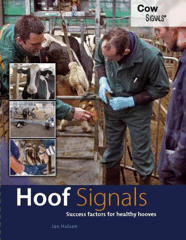 Hoof Signals $35.90
Our cows' hooves are the weakest link in their health, along with feed and feed intake. Cows that become lame - however slightly - will eat, drink and lie down less. They will therefore produce less milk and it will be more diffi cult to get them in calf. Plus they will need additional attention and work on an ongoing basis.
This is why it is important for every livestock farmer to pay constant attention to the health of his cows' hooves:
in terms of the design and construction of paths and barns.
in terms of the way they are managed so they remain clean and dry.
in terms of daily care tasks such as feeding, moving and treatment of the animals.
A good manager makes hoof health care an integral part of his work and in his daily, weekly, monthly and annual routine. He also focuses on prevention, so his time is not constantly taken up treating lame cows. He thinks ahead!
The modern farmer knows that he can bring in specialist vets, hoof trimmers and feed advisors. They may not have a clear picture of why certain conditions come about, but they know more than enough about how to prevent them.
Hoof Signals provides all the practical knowledge a farmer needs to get hoof health on his dairy farm under control with easily understandable descriptions, clear drawings and lots of photographs.
Author: Jan Hulsen