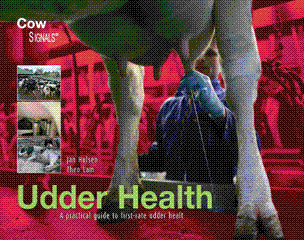 Udder Health $27.90
A practical guide to first-rate udder health
With a structured approach, a dairy farm can achieve and maintain first-rate udder health. Udder Health is a useful aid to dairy farmers and farm workers in that respect.
Udder Health contains the building blocks for ideal organisation of housing, care and management. It follows the farmer through his daily/weekly/monthly routines, since udder health should not be regarded as separate from other activities on the farm. Do you know how to organise milking so that it takes the minimum of time and runs smoothly with each cow?
Do you know how to treat a cow with udder problems? Or how to overcome a cell count problem? In the end it's down to you, but this book is an invaluable starting-point.
Its practical text, challenging puzzles and clear photos and illustrations make Udder Health an accessible and interesting guide for every dairy farmer. You'll find yourself turning to Udder Health time and again. The practical advice it offers will help you improve the understanding of udder health on your farm and achieve higher standards. Collaboration with the Netherlands Udder Health Centre (UGCN) allows this practical guide to incorporate the latest findings of the Dutch Long-Term Plan for Udder Health.
Author: Jan Hulsen